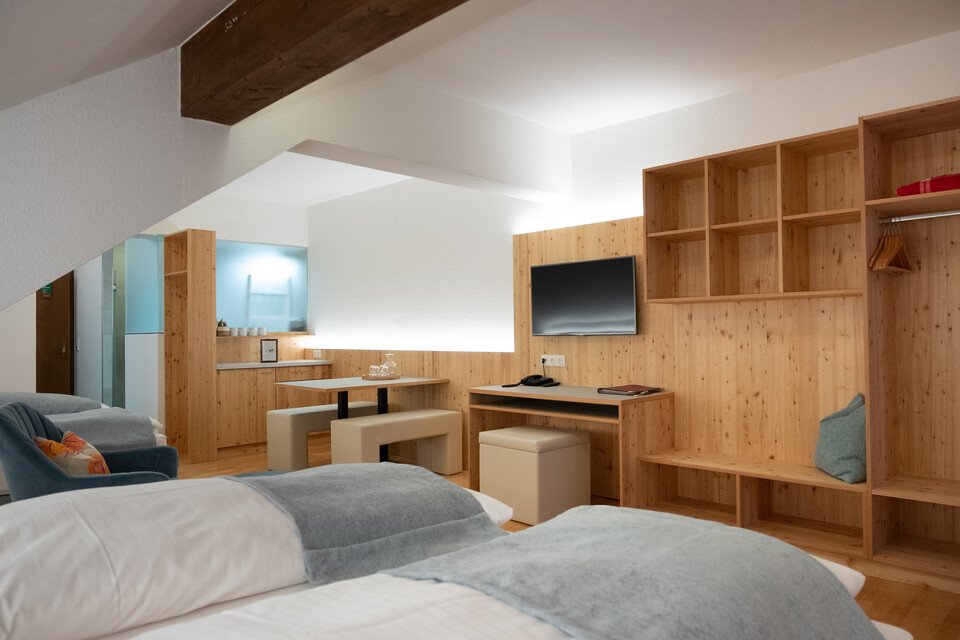 Quadruple Room with Balcony
An inviting balcony, your own small kitchen, the solid wood furniture that invites you to stay longer. If you ask us, it is above all the evenings spent together as a group or family on the balcony, with the special view, that is one of the best experiences of our guests.

Our four-bed rooms are equipped with two double beds, a small kitchen and microwave, dining table, TV, WiFi, enough space for everyone and a sunny balcony.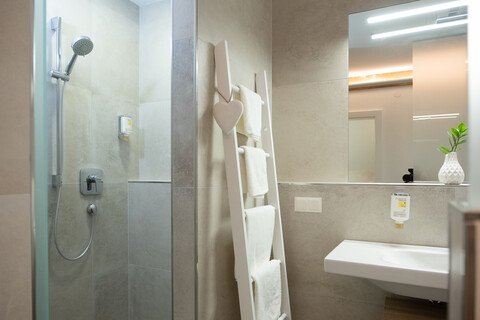 IN THE ROOM
WIFI
TV inkl. Sky Sport / Cinema
Bathroom / WC / Shower
Soap & Shampoo / Hairdryer / Cosmetic mirror
Coffee- / Tea bar / Refrigerator / Safe
Electric stove / Microwave / Kitchen utensils / Dining table
Balcony
On request: Crib
IN THE HOTEL
Bean coffee machine in the foyer
Access to Sauna / Heat cabin / Relaxation room
Access to Fitness room
Parking place in front of the hotel
IN THE ROOM
WIFI
TV inkl. Sky Sport / Cinema
Bathroom / WC / Shower
Soap & Shampoo / Hairdryer / Cosmetic mirror
Coffee- / Tea bar / Refrigerator / Safe
Electric stove / Microwave / Kitchen utensils / Dining table
Balcony
On request: Crib
IN THE HOTEL
Bean coffee machine in the foyer
Access to Sauna / Heat cabin / Relaxation room
Access to Fitness room
Parking place in front of the hotel